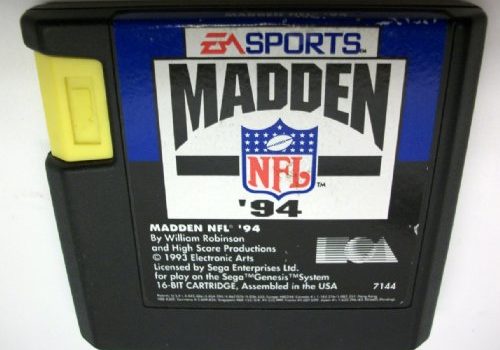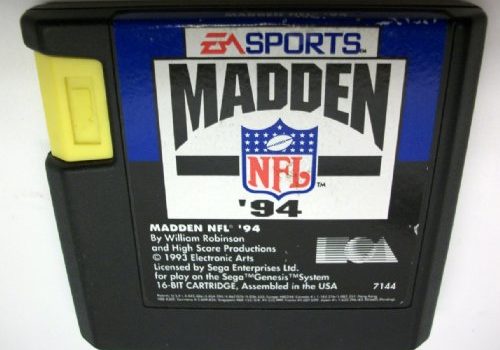 Its that time of the week I like to take a look at where I've been to evaluate where I'm going. Technology is cyclical...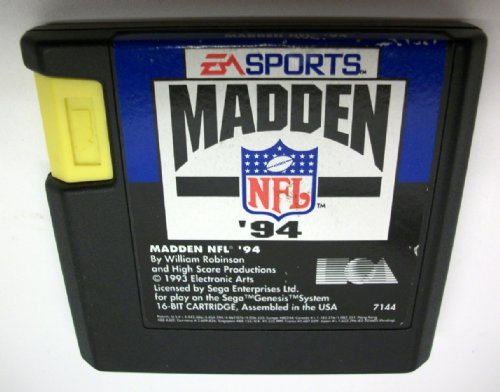 Its that time of the week I like to take a look at where I've been to evaluate where I'm going. Technology is cyclical after all… wait no its not. That said I still like all the feels that come rushing back like a flood of nostalgia every time I get my hand on the tech I grew up with. I'm going to go back periodically and take a looking at the stuff that used to blow our hair back and get our minds rolling. Some of these device blew up and changed the world, some were ahead of their time and some just fell flat and became colossal failures. Today and this week it's all about Madden, let's go back, not to the beginning, but to where it all really started, Madden 94.
John Madden Football. Madden, for short. Video game fans everywhere are familiar with Madden, regardless of whether they're sports video game fans or not. Once a year, for the past 30 years and counting, a new Madden game hits store shelves and sells millions of units. There are Madden tournaments broadcast on television. Retail stores open at midnight to sell the game to eager players. Madden, more than any other sports video game in the United States, is a phenomenon.
 The New New Madden 94
Madden 94 was the break out year, not just is popularity but Madden Football '94 improves significantly off the first Madden game for the SNES and Genesis. Rather than being a jerky mess, this actually has a decent frame rate, and it makes defense work a bit better. Though largely made obsolete after subsequent versions, it was an outstanding football game for the time. In a mega addition this is the first version to get NFL licensing, meaning you can finally play with your team and real players. More on this below
The '94-'95 seasons for EA Sports' franchise were largely innovated by numerous gameplay features like a battery-save feature and perspective-switching of the camera for kickoffs, punts, and turnovers. Nonetheless, the most important addition to the series can be seen in the title: the NFL license.
Teams but No Numbers, I Know Who #32 is
Acquiring the official licensing for teams and players brought the excitement of professional football to gaming like never before. In fact, Madden NFL '94 was the first game to use the iconic EA Sports tagline, "It's in the Game." Although there were some bugs involved, like the Giants/Jets rosters being swapped, this season was huge for Madden and EA Sports.

Madden '94 does not feature the names of the players but does have the roster of each team by jersey number. You can still play as your favorite football player from the 1993 season (remember that each Madden title is a year ahead) although the players do not have any certain visible characteristics that set them apart from other players.
While you can tell who you are playing as by the number highlighted under the character that you selected. The characters on the screen are only identifiable by the color of their team's jersey. Madden '94 is played in an angled top down view behind the offensive team. You get plenty of time to choose a play and can even run audibles to change the lineup if your opponent seems to have your number on the other side.

Playing Madden 94 Again
I powered up the old Sega Genesis I got my nephews to get hands on with Madden 94 again. I spent all of 1995 sick, battling cancer and recovering while playing Madden 94. My best friend at the time would spend almost all out of school time hanging out and playing me in Madden. He would die in an car accident just a year later. To say This game truly has a special place in my heart is an understatement. Its one that I forgot about or possibly blocked out until the very second it powered on.
The muscle memory instantly kicks in and I know the navigation through the menus like it's an instinct. I grew up a Raiders fan and that is the only team I would play with.. Today is no different.  I jump right in to play a season and take Da Raiders to the Bowl. I played an entire season in one night, smiles and tears and enjoying every moment of it. They were all here, all my little digital friend with the big heart. Just battling it out for a super bowl in 32 bits. A truly joyus,amazing and much needed replay.
The Final Thought
All emotions aside there is not much that really detracts from Madden '94. I was certainly pleased with how much was put into this game with a full season. Plus the using passwords to keep your progress and the inclusion of playoff and championship modes, choice. You can do everything in Madden '94 except create your own team or a do a draft. You can expect to find just about everything else in this game though. They even included an option to turn off John Madden's commentary, and for that you became a legend.