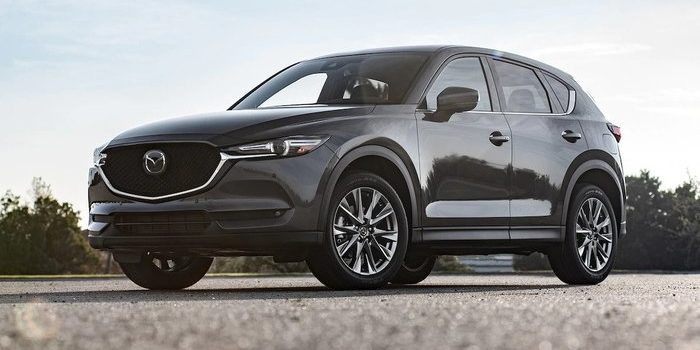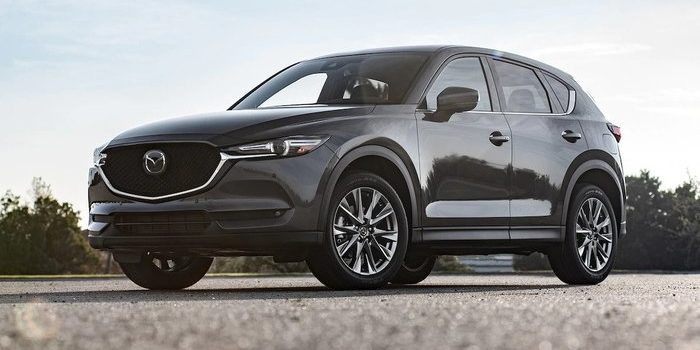 The Mazda CX-5 is a big contender in the world of crossovers. It's positioned right between being a mainstream, everyday vehicle at its lower...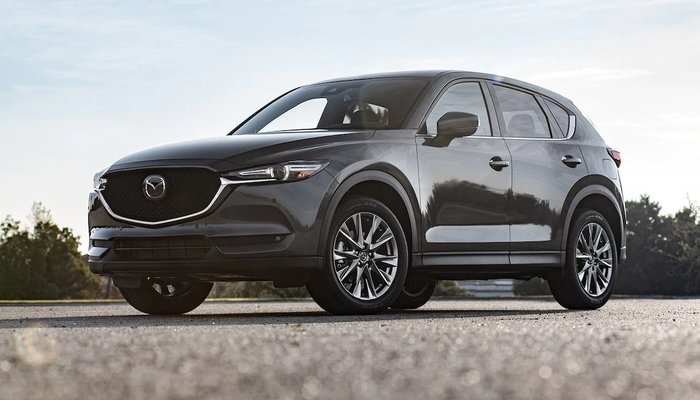 The Mazda CX-5 is a big contender in the world of crossovers. It's positioned right between being a mainstream, everyday vehicle at its lower trim levels and a serious example of luxury in its high-end Signature trim level. Is it a worthwhile purchase for your family, though? Let's take a closer look.
Mazda CX-5
Design
Crossovers need to look like they're a few feet off from being actual sports cars, and the CX-5 doesn't miss that mark. Where many competitors have bland and boring designs on their crossover SUVs, the CX-5 looks athletic and ready to pounce. The design is simple and straightforward, not drawing too much attention to itself while still looking stylish enough to impress. The massive grille and interestingly-smooth body make for a distinct appearance that doesn't distract from the important design elements.
Oddly, the Signature trim doesn't get a lot of visual distinctions from the rest of the range. The 19-inch wheels on the Signature are a dark silver color, which differs from the lower entries, though that's the only difference aside from the discreet "Sg" badge. That badge is easy to miss, and, unless you know what you're looing for, could be overlooked altogether. However, it's what's on the inside that counts.
Interior
If you opt for the Signature upgrade, you get everything. Literally every option available for the CX-5 is on if you get the top trim level. This includes everything from a unique heads-up display, heated and cooled seats, a heated steering wheel, a Bose sound system and more. The seats get Nappa leather for the upholstery, you get slick ambient lighting all over, and even a sleek leather wrapping for the steering wheel.
What is notable, of course, is the lack of a few features we'd expect on a trim level set to be competing with luxury rivals. There's no wireless charging for cell phones, no remote start option, and no automated hatchback that you can swing your foot under to open. That said, there's a lot to love in the interior of the vehicle for those looking for serious luxury.
Tech
When you're shopping for a nice, new SUV, the tech on display is a huge consideration. The Mazda CX-5 offers up some great tech, but it's a bit sluggish in places. For instance, the infotainment system is wonderful, with a big and bold 7-inch display. However, it can take a long time to boot up, and it's a bit slow to react to inputs or connect to Bluetooth.
Additionally, as soon as you're in motion, the touch screen is locked and you have to use the rotary dial on the center console; this only adds to the frustration of using the system. That all being said, the screen looks great and the sound system, especially in the Signature trim level, is exemplary. Thankfully, the system also incorporates both Android Auto and Apple CarPlay, which is a much-needed feature in 2019.
Engine
Under the hood, the CX-5 is rather impressive at the Signature trim level. The turbocharged 2.5-liter inline-four is a bit of a beast, rocking 250 horses and 310 pound-feet of torque. It goes zero to sixty in only 7.3 seconds, which is impressive for an SUV. This all means that you can actually get up and go, accelerating ahead in traffic and navigating crowded highway traffic more efficiently. No one likes getting left in the dust, so this is a welcome update.
Bottom Line
While the CX-5 technically starts at $24,350, we recommend the Signature trim level highly. If you're in the market for a more budget-friendly crossover, the Honda CR-V is probably a better bet. That said, if you want a compromise between budget and luxury, the Signature trim level, which goes for $37,885, is what you're looking for. In that configuration, it's a pretty solid vehicle.